AKC Champion Timber Ranch Queen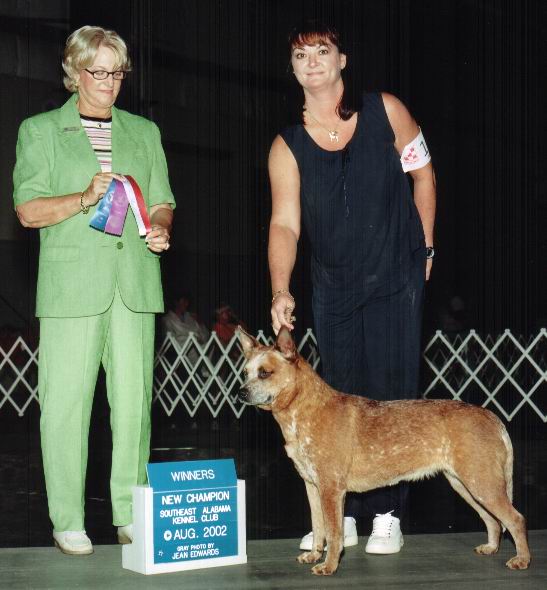 This smooth moving red bitch, aka "Pinky", finished her AKC Championship title on August 29, 2002 earning Winners Bitch award for 2 points and her title! She's develped a tradition of winning taking Best of Breed/ Best of Winners/ Winners Bitch for a 3 point major at The Newnan Kennel Club on September 23, 2001! She was only 9 months old! On May 5, 2002, she won Winners Bitch for 2 more points! She also won Winners Bitch September 22, 2001 at the Atlanta Kennel Club! Her first weekend out September 2, 2001 she took Reserve Winners Bitch out of a 5 point major at the Crossroads Show Cluster! She earned three Best of Winners awards three days in a row at the Crossroads Cluster shows in Atlanta on February 1-3, 2002! WOW! What a beautiful bitch! Congratulations Pinky! We love you!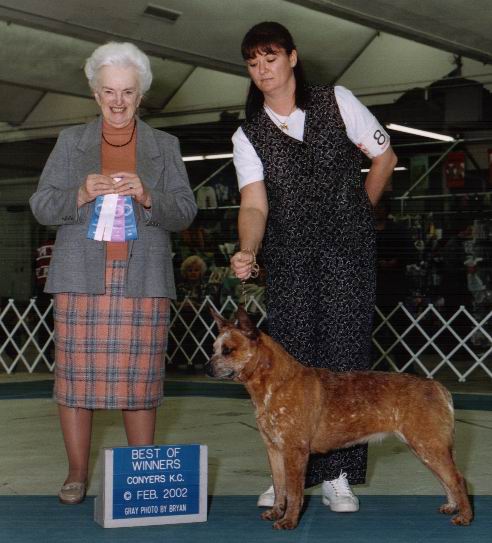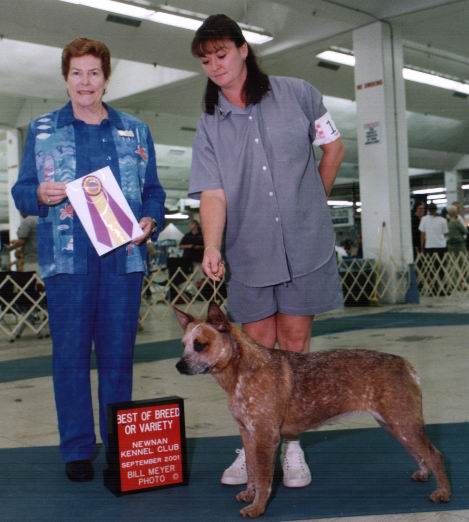 Champion Timber Ranch Queen
CERF#ACD-1544N/2002-17

Here is a photo of Star, Pinky's sister, winning Winners Bitch and Pinky winning Reserve Winners Bitch at the same show! Star is owned by Melisa Peacock of Hundred Acre Kennels in Homestead, Florida.

For more info or to contact Lisa, click here: lisa@timberkennels.com
HOME | CURRENT LITTER | PUPPIES | BLOODLINES | HORSES | PEDIGREES | ALINA | TANK |&nbsp CRUSH | PINKY | SKYE | BRIANNA | HAY | PUPPY HOPEFULS | PHOTO GALLERY | CONTRACT | LINKS |